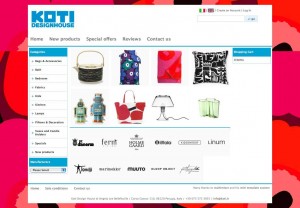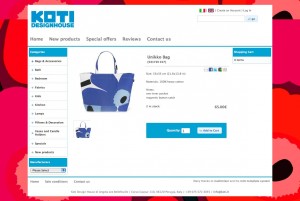 Koti Design House is a store specialized in bed linens, gifts and house accents from the best Scandinavian designers. Original solutions for your house combined with functionality and style.
We are really happy to see talented people with a good taste to create great online stores using our tools. The is finally what mini template system is all about: A tool to help people to create stores the way they want them without having to worry about technical issues and without being pressed into a ready made template. The people of Koti Online Store created such a store, so we are happy to present it here.
Setup and configuration is done by the store owners from a to z, same for all additional modifications that are added to the store, we noticed a module for setting quantities per attribute, a Url rewrite tool and a meta tags module, there is probably much more
The front page is setup using the front page manager and include 2 banner modules: The first banner module shows the stores main categories. The category name is shown as a caption upon hover. The second banner module show the manufacturer logos. Both banner modules are setup to display as a grid. This is one of the many possible settings that can be selected in the administration panel
The left column includes a accordion menu and a drop down selection box for manufacturers/brands. The shopping cart box on the right stays prominent and visible all the time. The custom ui theme has been created online using themeroller in same colors and style as the company logo.
This is a very clean looking store that places the products themselves to the foreground. The overall look of the store is almost identical as the wordpress driven information website of the company, keeping in that way a consistent identity for the complete web-presence.
Koti Design House is a Italian company from Perugia, the store use 2 languages, English and Italian