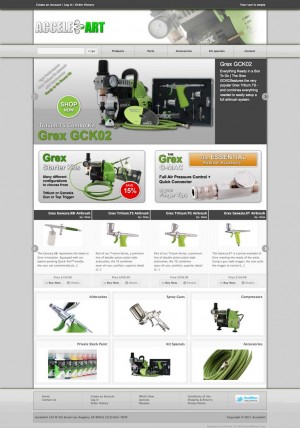 Acceleart is a Los Angeles based store specialized in airbrushes: "Your one stop shop for all your Grex Airbrush needs."
Setup and configuration is done by the mini template system team using not more than 5 lines of additional css. The rest of the design is done in the administration panel taking full advantage of all included mini template system tools and features. All images have been prepared by the store owner.
The design is hold in variations of gray with very light green touches, matching the color of the product line. As a basic setup the store uses the "medium gray" color scheme and shadow scheme number 22c. The store width is 960 pixels and the ui theme in use is "smoothness".
Both, left and right columns have been removed leaving a really spacious content area, so that large images and alot of information can be displayed. The products menu moved to the top navigation menu using the link manager and menu maker
The front page looks really nice using the 2 front page banner modules. The first of them is using a "slider mode" and is auto rotating, second display 2 static banners in "grid mode". Next it follows the new products module, pulling products from a specific featured category and displaying them in a slider mode and manual vertical scrolling. At the end the main categories are displayed in a grid mode. All front page settings are done using the banner manager and front page manager
The very informative product information pages have been set up by the store owner. Same for the "image maps" on the product listing pages that help to find the proper spare part for each machine.