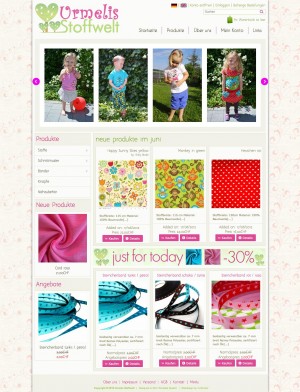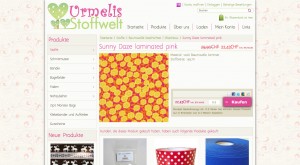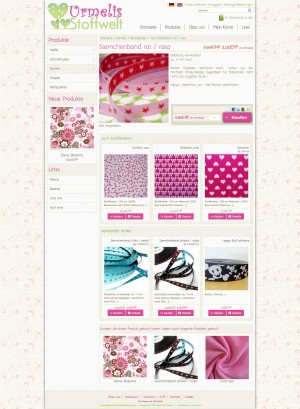 Urmelis Stoffwelt is a huge collection of fabrics for children clothes. All kind of beautiful children fabrics, accessories, e-books and many tips for your little one's clothes
Right on top, on the front page, there is a little gallery, like a "fashion show", with children wearing clothes made by Urmelis fabrics. This is created by using a banner module with 4 banners in a block, the text appear upon hover (the setting for the banner module is "display text:caption")
The rest of the front page consist of the new products module, the specials products module and a banner showing a plain image with a message that change occasionally.
The store has various modifications on the functionality level, the basic setup is as follows::
osCommerce 2.3.3.4
Mini template system 1.4.05_b
Ultimate SEO url
Security Pro
Modular header tags
Sitemap generator
Image thumbnailer
SPPC (unlimited customer groups with separate prices and conditions)
Quantity price breaks
Related products (cross sell and upwell items)
Discount coupons
Ask a question on product info page
Social Bookmarks on product info page
Attribute manager
Order Editor
Export orders and customers into csv feature
PDF invoice feature (using tcpdf)
Custom shipping and payment modules
Gallery page
One of the special modifications done is, that quantities can be entered in decimals. Usually you can enter a quantity only in round numbers, like 1, 2, 3 etc. This is of course a problem for a store that sell fabrics in small quantities, like 1.5 meters. So we changed the system, customers can enter any decimal quantity and of course a quantity lower than 1, like 0.3 meters.
Each item has a minimum quantity set and a quantity step, that can be set in admin. For example, most of the fabrics have a minimum quantity of 0.2 and a quantity step of 0.1 meters. You can't order say 1.52 meters, the adjustment is happening automatically on the product info and shopping cart pages. Other items have different settings. That settings are possible per customer group as well
An other nice extension is the little gallery we created. The modification pull images from a specific banner group and display them on a special gallery page, all images open in a nice fancybox pop up. Urmelis Stoffwelt is showing images of the "real" store there
The product listing page show products in a grid style, 3 products per row, for each product there is an image, a short description, available quantity, price and the 2 buttons, "details" and "buy now"
Setup and configuration is done by the mini template system team. The great images got all provided by the store owner, the logo we created ourselves. .
Urmelis Stoffwelt is a Swiss store, the language is German.